CREATIVITY FOR YOUR BUSINESS
Experts in Print, Design, and Marketing – we specialize in everything from getting start-ups on their feet to maintaining established brands communicate with their clients through print and online marketing.
With years of experience we love making your creative projects come to life. Re-branding, start-ups and good 'old fashion printing comprise the bulk of our work and we look forward to helping your business grow.

TheARTery,LLC is your creative headquarters to give your project a creative edge to gain new customers and build your brand. Founded in 2012 we specialize in print fulfillment, graphic design, and marketing products. We have what it takes to target your audience utilizing traditional and modern marketing solutions to engage and retain your clients and customers.
With an ever expanding expertise selection of products and services; you can be sure we will get your message to your audience with a professional touch. We offer everything from brochures to banners, signs to stationery, and water bottles to websites. Perfect for design firms, small and medium businesses, non-profits, teams, franchises, and creative professionals, we aim to be your one-stop source for all your print, design, and marketing needs.
At theARTery,LLC we are committed to bringing you the best service and highest quality products possible at a great price. We look forward to serving you, let us know how we can help you get started on your next project today!
Concept to Complete.
We do it all – on time and within your budget!
Print
Our products will exceed your expectations!
High Quality
Print like a pro – with a multitude of stocks, finishes, and special features.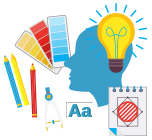 Design
Our expertise crafts messages & builds brands.
Creative Expertise
Stand out from the competition with beautiful design elements including logos and imagery.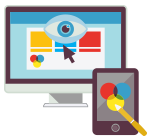 Marketing
Get the right message to the right audience.
Target Your Audience
With print materials, signage, mailing programs, and online advertising, you can be sure to engage your audience.
Years Average Employee Industry Expertise
Years of Satisfying Customers